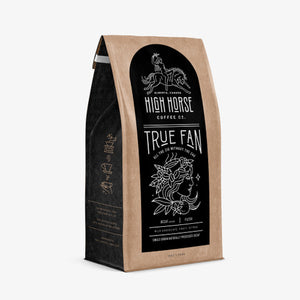 All the zig without the zag. This single origin naturally processed decaf is a labour of love for the real coffee lovers out there. You put up with all the jokes and comments, but you always stay committed to the beautiful taste and aroma. A selfless love for coffee leaving the caffeine to those who need it. You are a true hero and we salute you. 
Milk chocolate / Fruit / Citrus
High Horse Coffee Co. specializes in direct and ethical trade. Using organic offerings, they offer the finest roasted coffee.
Grind fresh 2 tbsp. for every 6 fl. oz.
Use within 1 month or 2 weeks after opening.