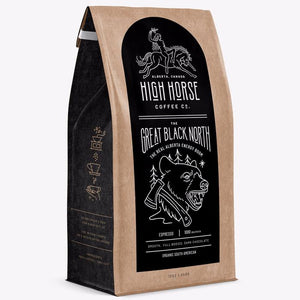 Espresso / Dark Roast
This organic South American espresso is a powerhouse and always strikes with two shots - It hitting your lips and your lips hitting the best espresso of their goddamned life.
Smooth / Full Bodied / Dark Chocolate
Elevation - 1000 Meters
Whole Bean
High Horse Coffee Co. specializes in direct and ethical trade. Using organic offerings, they offer the finest roasted coffee.
Grind fresh 2 tbsp. for every 6 fl. oz.
Use within 1 month or 2 weeks after opening.