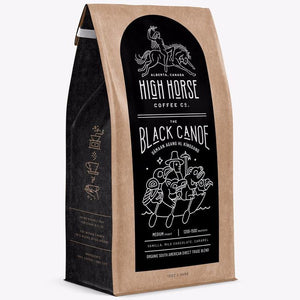 Medium Roast
It doesn't matter where you are going, it's how you get there. This organic South American direct trade blend is definitely going to take you away. Everything in this roast is put together perfectly and will remind you of cool mornings in the Rockies, evenings on the porch with your favourite people and childhood memories you didn't even know you had. If you wake up in a cave, shirtless, sitting next to your spirit animal... then you have drank this coffee correctly.
Vanilla / Milk Chocolate / Caramel
Elevation - 1200 - 1500 Meters
Whole Bean
High Horse Coffee Co. specializes in direct and ethical trade. Using organic offerings, they offer the finest roasted coffee.
Grind fresh 2 tbsp. for every 6 fl. oz.
Use within 1 month or 2 weeks after opening.