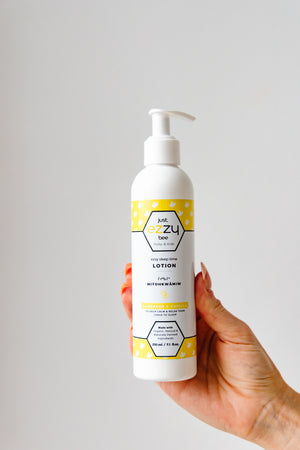 ᒥᔪᐦᑳᐧᒥᐤ miýohkwâmiw - she/he sleeps well
Going to bed should be simple but all too often, you or your child struggle to settle down. Make bedtime a breeze with just a touch of this lotion. Blended with aloe leaf juice and oils, and fragranced with lavender and vanilla, you'll find calm and serenity in no time! Plus, you'll be smelling gorgeous for hours. Get your hands on a 7.1oz bottle of our top-selling lotion and see just how much easier sleep can be.

And with anti-inflammatory Chamomile, this lotion can reduce redness from eczema, even out skin discoloration, and ward off infections. Say goodbye to sleepless nights and welcome sweet dreams with Large Ezzy Sleep Time Lotion!
Ingredient List:
Organic Aloe Leaf Juice, Organic Coconut Oil, Emulsifying Wax (Cetyl Alcohol, Stearyl Alcohol, Polysorbate 60), Stearic Acid, Glycerin, Grapeseed Oil, Phenoxyethanol (organic preservative), Roman Chamomile Flower Oil, Xanthan Gum, Tetrasodium Glutamate Diacetate (organic preservative), Vanilla, Lavender