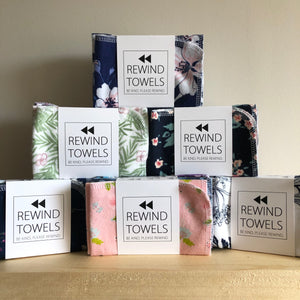 Rewind Towels are one-ply 100% cotton flannel. They are perfect to tuck into lunch bags, pockets, purses or simply wrap them onto a paper towel roll. Towels will shrink after washing and become softer and more absorbent with use. Some fabric pilling is expected. Towel sizes are approximately 11" x 10.5" (28 cm x 27 cm) with slight variations to minimize fabric waste. 

Washing instructions: Machine wash cold or warm with like colours. Dry in dryer or line dry. No fabric softener.
**Please note: Prints will vary from ones shown in the photograph as fabric inventory changes. We will pull from what we have in-stock.