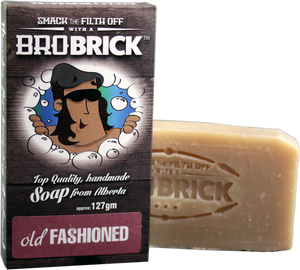 Experience the scents of fine Bourbon, orange zest and sweet cherry. This brick based on the classic drink will cleanse your body and make your mouth water for an Old Fashioned. 
This 127g bar of cold process soap is mild on skin with no harsh chemicals.
Ingredients: Saponification of: Water (Aqua), Canola oil, Palm oil (Sodium Palmate), Coconut oil (Cocos Nucifera), Sunflower oil (Helianthus Annuus), Fragrance oil.