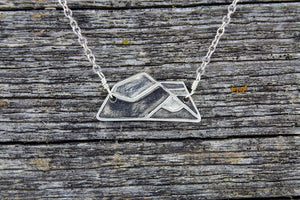 One of a kind handmade sterling silver Mount Robson Necklace


The Canadian Rocky Mountain range inspires, challenges, and awes any that have been honoured to be in their presence. The turquoise lakes, virgin forests, crisp mountain air, sense of adventure, excitement, and deep peace are only a few of the feelings and memories associated with these beautiful natural formations. There is no doubt these peaks are an essential root in many Canadian hearts.


Mount Robson


Elevation: 3,954 m

Coordinates: 53°06′37″N 119°09′24″W


The pendant is just over 3/4 of an inch wide and 3/8 of an inch tall.


It is attached to an adjustable sterling silver chain that can be set at 16", 18" or 20".