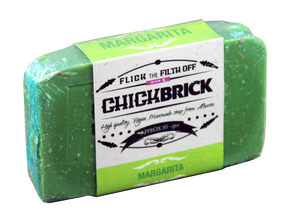 Chick Brick
Enjoy your last vacation down south? Yah you did! This brick is a little taste of Mexico every time you shower. When you take a sniff of a margarita you get notes of lime and tequila, heightening the sweetness and sourness. 
This 127g bar of cold process soap is mild on skin with no harsh chemicals.
Ingredients.
Saponification of: Water (Aqua), Canola oil, Palm oil (Sodium Palmate), Coconut oil (Cocos Nucifera), Sunflower oil (Helianthus Annuus), Fragrance oil, Chromium Oxide Green(ci 77288).