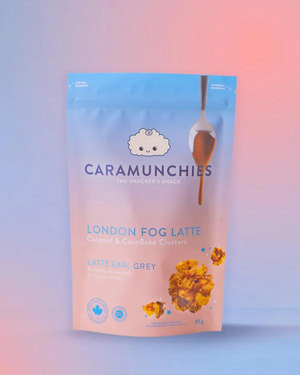 OUR LONDON FOG LATTE FEATURES OUR AMAZING SALTED CARAMEL INFUSED WITH THE MOST FRAGRANT BLACK BERGAMOT VANILLA TEA!
Pinky's up! It's like an incredible sip of velvety, luscious London Fog in every bite!!
INGREDIENTS: 
Cornflakes (milled corn, sugar, corn & barley malt extract, salt, color, vitamins & minerals), Cream (milk), Sugar, Cane Sugar Syrup, Butter, Soy Lecithin, Earl Grey (black tea, artificial flavour, natural vanilla extract), Sea Salt, Baking Soda.
ALLERGINS: 
Milk, Soy, Barley Ingredients (gluten). May contain trace amounts of peanuts/tree nuts.
SIZE: 85G