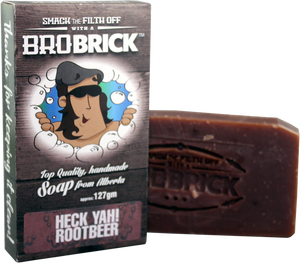 You know what this is! A delicious Root Beer fragrance!
This 127g bar of cold process soap is mild on skin with no harsh chemicals.
Ingredients: Saponification of: Water (Aqua), Canola oil, Palm oil (Sodium Palmate), Coconut oil (Cocos Nucifera), Sunflower oil (Helianthus Annuus), Fragrance oil, Black Iron Oxide (Iron Oxides).