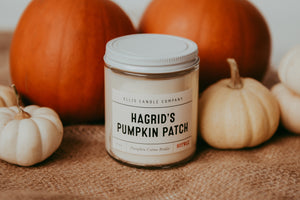 This pumpkin patch was owned and cared for by Rubeus Hagrid, gamekeeper at Hogwarts School of Witchcraft and Wizardry and our inspiration for a beloved fall classic scent - pumpkin spice! 
Made using all natural soy wax, wood wick, no dyes

40+ hour burn time, 8 ounces 
When using wooden wicks they can become thin and ashy simply break of the ashy ends, when completely cooled, and allow the candle to burn on a thicker part of the wooden wick.
Ensure on first burn to have candle lit for at least 1 hours to avoid tunneling on the candle. Do not have candle lit for longer than 3 hours. 
Candles can be a large fire hazard if not used properly please take these into consideration when burning our candle.
Burn candles in well ventilated area.
Keep candles out of reach of pets, children, and items that can easily catch fire (paper, fabrics).
Do not leave candles unattended for any reason or any length of time.