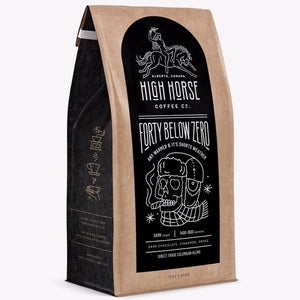 Dark Roast
A direct trade Colombian blend for the real Canadian. Those of us who know the struggle and stare into it with a big grin. A dark roast so dark that you can add all the cream and sugar you want but you are still drinking it black.
Some people get chilly and zip up their goose down jackets with shaky hands, while some don't even feel the need to button the top four buttons on their denim shirt. It is for those bad asses that we make Forty Below Zero.
Bold / Dark Chocolate / Cinnamon / Smoke
Elevation 1400 - 1600 Meters
Whole Bean
High Horse Coffee Co. specializes in direct and ethical trade. Using organic offerings, they offer the finest roasted coffee.
Grind fresh 2 tbsp. for every 6 fl. oz.
Use within 1 month or 2 weeks after opening.