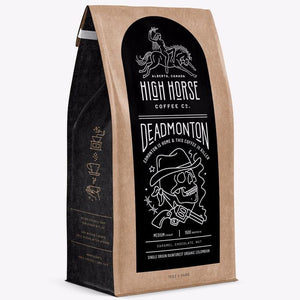 Medium Roast
This single origin rainforest organic Colombian will sting if you get it in the eyes, it will destroy the bread if you spread it on toast, but if you manage to get it into your mug, it will be the best cup of coffee of your entire life. Welcome to adulthood, it is worse than being a kid in all ways except for this beautiful, beautiful, organic cup of Colombian.
Caramel / Chocolate / Nut
Elevation - 1500 Meters
Whole Bean
High Horse Coffee Co. specializes in direct and ethical trade. Using organic offerings, they offer the finest roasted coffee.
Grind fresh 2 tbsp. for every 6 fl. oz.
Use within 1 month or 2 weeks after opening.