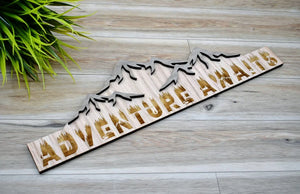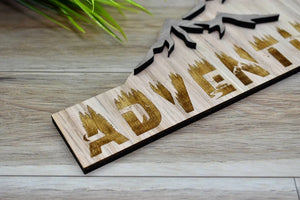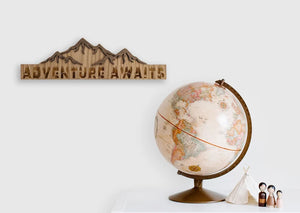 Great looking wall decor sign that reminds us adventure is always waiting to happen. Engraved in beautiful red oak with a special "wild and nature" artistic font, and raised mountains made of walnut. This sign can decorate any room. Mounting holes are provided in the back for quick and easy installation.
Mounting holes are horizontally aligned and 7.5 inches apart.
✔ Details and Material Information
● Dimensions (in): 15.5(L) x 4.485(W) x 0.625(H)
● Weight (g): 120
● Each wood product is unique. We must emphasize that no piece of wood is exactly the same, therefore wood grain, texture, and appearance of knots can vary by order.
● For indoor use only.
● Handmade in Canada.