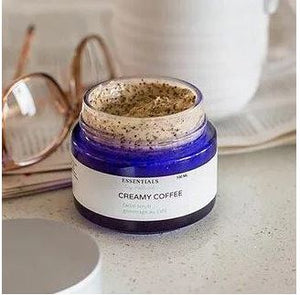 Awaken your senses!!
Our Creamy Coffee Scrub, a natural skincare marvel meticulously crafted to rejuvenate your skin. This exfoliating wonder is enriched with a harmonious blend of botanical ingredients, including coffee seed oil, locally roasted coffee grounds, organic honey, and vitamin E. Immerse yourself in the sumptuous aromas of vanilla and cardamom essential oils as you indulge in a pampering experience like no other.
Packed with antioxidants, this exquisite oil helps combat free radicals, promoting a youthful complexion and improving skin elasticity. The locally roasted coffee grounds work wonders as a gentle exfoliant, delicately sloughing away dead skin cells to reveal a radiant glow.
Details:
A warm aromatic blend of coffee, honey, vanilla & cardamom
Coffee is the ultimate exfoliator, that leaves the skin smooth and glowing
This delicious scrub can be used on your face & body
Our Products are Handmade with Love from Canada!
We love supporting local and all our products are not massed produced. Rather, we create our products in batches, meaning that there is more care, detail and love in each bottle. By buying our items, you are helping to support a thriving Edmonton based business.
Ingredients: Formulated with plant-based ingredients, this scrub gently exfoliates skin with a botanical blend of ingredients, such as:
Coffea arabica (coffee) seed oil
Hydrogenated Vegetable oil
Glycerin
Vitis vinifera (grapeseed oil)
Coffee Colombian (coffee) beans
Honey,
Vitamin E
Vanilla planifolia (vanilla) bean oil
Elettaria cardamomum (cardamom) essential oil