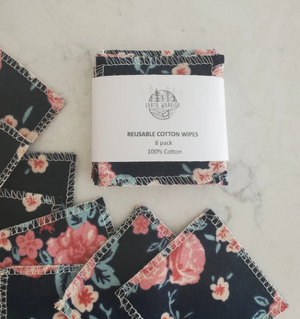 Re-usable Make-up remover wipes.
These reusable face pads are 3" square, and are available in a package of 8.

These cotton wipes are gentle on the face, and are a great replacement for throw away cotton rounds.

These Are made from 100% re-purposed cotton Flannel. so not only are you reducing single use cotton waste but you are helping reduce textile waste by using these.

Fun fact:
Single use cotton pads are thick, absorbent and waste too much product (toner, liquid make-up remover). Where as the reusable cotton rounds are thin, low-absorbing cloths that won't waste your product. In return you will be saving money since you won't be going through your liquids as fast.