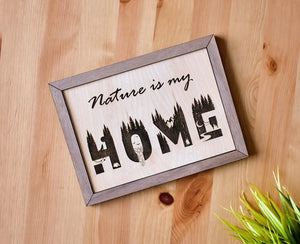 Beautiful decor sign for hanging in half baths. Make sure your guests have a nice laugh with this sign made of high-quality maple plywood engraved with a funny message. The sign is nicely finished with a walnut frame. A mounting hole is provided for quick and easy installation.
✔ Details and Material Information
● Dimensions (in): 8(L) x 6(W) x 0.375(H)
● Weight (g): 150
● Each wood product is unique. We must emphasize that no piece of wood is exactly the same, therefore wood grain, texture, and appearance of knots can vary by order.
● For indoor use only.
● Handmade in Canada.