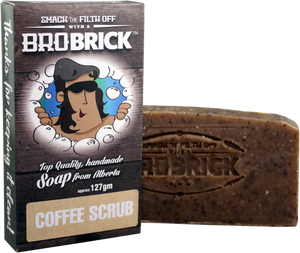 Everyone loves fresh coffee in the morning. This brick will stimulate your senses and scrub your skin clean. Made with real coffee and a new fresh coffee scent. 
127g bar of cold process soap with no chemicals and is mild on skin
Ingredients: Saponification of: Water (Aqua), Canola oil, Palm oil (Sodium Palmate), Coconut oil (Cocos Nucifera), Sunflower oil (Helianthus Annuus), Fragrance oil, Coffee Grounds.