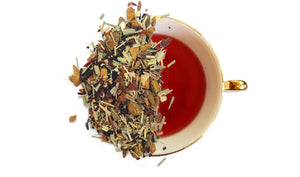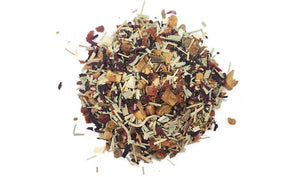 Sweet pina colada tea with a hint of chai spice.
We made this tea for Charlotte. She wanted a fruity, tropical herbal tea with a twist of chai.
Ingredients: Apple, Rosehip, Pineapple, Coconut, Hibiscus, Lemongrass, Coconut, Cinnamon, Cardamom, Ginger, Nutmeg, Clove *allergen – contains coconut*
Tea From: Turkey | Chili | Thailand | Egypt | France
Caffeine: free
100g
Reviews:
"A delightfully refreshing tea that I'm happy to drink any time of the day. Beautiful flavours!"
"Kudos to Charlotte (and of course the Vintage Fork crew) for this tasty blend! Warm and soothing. Reminds me of sitting outside on a nice spring day. I tried it as a sample and definitely want to get a larger bag!"