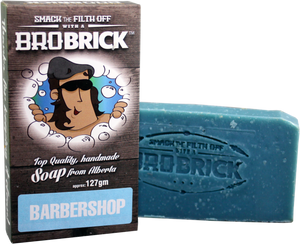 Remember the smell of a 50's style barbershop? Neither do I, but I imagine it might smell like this. Our best selling brick. 
This 127g cold process soap is free of harsh chemicals and mild on skin.
Ingredients: Saponification of: Water (Aqua), Canola oil, Palm oil (Sodium Palmate), Coconut oil (Cocos Nucifera), Sunflower oil (Helianthus Annuus), Fragrance oil, 77007/pigment blue 29.