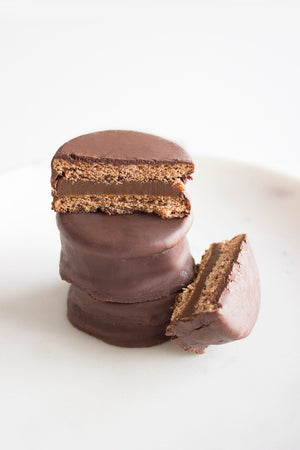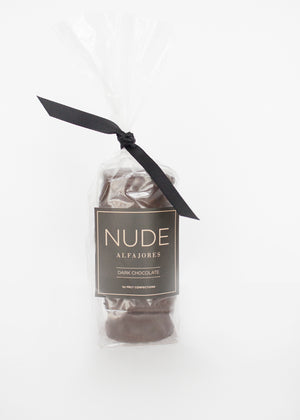 A bag of 5 of our signature alfajores coated in rich dark chocolate. Made in Edmonton, AB.
This Argentine classic - two honey-shortbread cookies, with a rich Dulce de Leche filling, and coated in delicious dark chocolate.
Our NUDE Alfajores are simple and minimalist, and pay homage to this classic Argentinian treat we love so much. The NUDE chocolate alfajores are simple and unembellished, but bursting with the traditional flavours of home.
To preserve the integrity of our product, we use only the best Dulce de Leche imported from Argentina.
Our cookies are made from scratch, and stand out from the rest, thanks to our secret ingredient, which makes the soft, crumbly cookie melt into the Dulce de Leche with every bite.
We individually hand-craft each alfajor, filling it with a generous serving of our favourite ingredient - Dulce de Leche, and then coat the cookies with velvety dark chocolate which provides a nice contrast to the sweetness of the Dulce de Leche.
INGREDIENTS
Dulche de Leche, dark chocolate (chocolate, sugar, cocoa butter, soy lecithin (emulsifier), vanilla), flour, butter (cream, salt), sugar, cornstarch, honey, shortening (soybean oil. mono and diglycerides, tbhq and citric acid (antioxidants)), egg, cocoa, baking powder (sodium acid pyrophosphate, sodium bicarbonate, cornstarch, monocalcium phosphate), baking soda, vanilla extract. grated orange zest.
Contains egg.
**Due to fluctuating temperatures, TMK is not responsible for any melting or freezing of products**