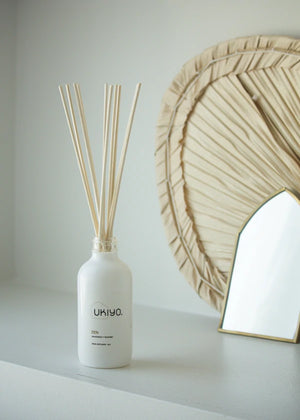 The fresh aroma of lavender, relaxing and calming, mixed with the strong invigorating aroma of eucalyptus.
Scent Notes  : eucalyptus + lavender
 Reed Diffuser is a hassle-free home fragrance, it's a simple set and forget.
These rattan reeds act like micro mini straws that pull liquid up and release the aroma into the air and can fit into small spaces like your bathroom, bedroom, office or studio. The more reeds you use, the stronger the scent throws.
- Remember to flip the reeds every so often to refresh. A perfect flameless home fragrance.
- Made with fine fragrance oils, biodegradable base, no artificial colors, no animal testing, no synthetic dyes, no parabens, no phthalates.
- This 4 oz bottle with 10 reed sticks will last 6-7 months. 
Keep out of reach of pets and small children
Do not pour oil into electrical diffuser
Do not ingest the diffuser liquid
Avoid placing in areas where the bottle can be knocked over