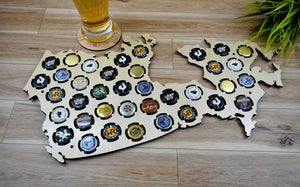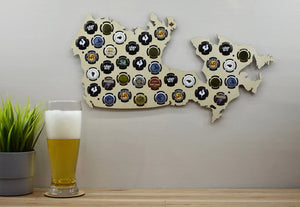 Amazingly good looking map of Canada made out of plywood with holders for bottle caps. Create your own custom collection of bottle caps from your favourite drinks and hang it on the wall for a great personalized decoration that everyone will notice. The map is made out of strong 1/4 inch birch plywood with a light smooth shiny finish. A total of 37 cap holding positions that will fit standard 27mm crown caps. Each holder hole has 4 strong tabs that will keep the cap in place. 4 mounting holes are provided and optional mounting hardware is included for installation separated from the wall.

Materials: Wood
Dimensions: 19 in x 10.56 in x 0.25 in
Weight: 100 g
Additional Information:  Each wood product is unique. We must emphasize that no piece of wood is exactly the same, therefore wood grain, texture, and appearance of knots can vary by order. For indoor use only.

Installation And Use Tips
Bottle caps must be inserted from the back. Push the cap evenly until it pressure fits. The easiest way is to place the cap facing up on a flat surface. Take the piece and align the holder hole with the cap. Push down evenly and the cap will pressure fit. The cap doesn't have to be perfectly flush with the back of the piece. Don't force it as it might cause the cap to deform or the holding tabs to break.
Use the mounting holes to install the piece right up against the wall. Alternatively, use the included mounting hardware for installing it slightly separated from the wall and make it look as it was floating.